Manufacturers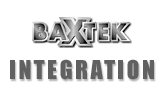 January 29, 2007
Get on the Road again with Motorola Enterprise Mobility products (formerly Symbol)


Dear BaxTek Solutions Customer,

This is a personal invitation for you to attend the Motorola "On The Road Again" truck event in Duluth, Georgia on 2/5/07. The event will start on the truck at 9:00 AM EST and conclude at 4:00 PM EST. ScanSource will be hosting an Appreciation Lunch on the day of the event at Dave & Buster's in Duluth. The lunch will take place from Noon-1PM. You are encouraged to bring your customers/prospects to the truck. Please plan to join us for lunch and a time of training on the truck. Motorola engineers will be there to answer your technical questions. I will also be there to help answer any ScanSource questions you may have.

There will be an industry expert in attendance to provide a presentation on Field Service/Transportation/Sales Force Automation. I will also be there to help answer any ScanSource questions you may have. Hope to see you there.
February 5, 2007 9:00AM - 4:00PM

Dave & Buster's
4000 Venture Drive
Duluth, GA 30096
770-497-1152

Schedule of Events
9:00 AM
Mobile Briefing Center (Truck) opens

11:00 AM
Field Service/Transportation/Sales Force Automation Presentation

12:00 -1:00 PM
ScanSource Appreciation Lunch

1:00 - 4:00 PM
Mobile Briefing Center
Motorola will provide a world of information designed to help you and your company learn more about enterprise mobility.

Visit the Motorola Briefing Center to experience:

Displays and solutions targeting vertical market segments
All of the newest products from Motorola including new vehicle mounts, MC9090 and MC70

Interactive demonstrations of Motorola hardware and systems including Advanced Data Capture, Mobile Computing, Wireless infrastructure, Management Software Solutions and RFID

Experts to explain how solutions are being deployed in different industries and applications
Technical Engineers will be available to discuss technical questions
ScanSource will have giveaways at the truck event including an IPod!
Register here.

Space is limited on the truck so please RSVP as early as possible!
For more information, please contact Wayne at BaxTek, wb@baxtek.com, 770-979-8696.
Or:
Van Thomas
ScanSource, Inc.
Business Development Manager - Motorola
Ph. #: 800-944-2439, x4472
Fax #: 864-288-1165
Email: van.thomas@scansource.com
http://www.scansource.com
Copyright © 2019 BaxTek Solutions All Rights Reserved 1-866-722-9835 Made in Georgia, USA