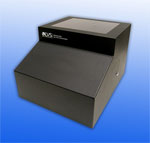 What is the LVS9505 Flat Bed Verifier?
The Flat Bed Verifier is designed to ISO grade most 1D & 2D bar codes on various label sizes and finished products with flat or rounded sides. The Flat Bed Verifier Boasts a massive 6" x 4" Field of View on the optional High Density unit.
The LVS Flat Bed Verifier is connected to a customer supplied PC via a USB cable and is designed to fully comply with the ISO/IEC Standards. Place a bar code on the viewing stage and software does the rest. A NIST Traceable Calibrated Conformance test card is used for calibration.
INTEGRA 9505 Parameters:
The INTEGRA 9505 inspects all nine of the ISO (ANSI) parameters PLUS added features of determining Blemishes, Opacity, and Human Readable Validation. More detailed analysis of the bar code is possible with a few clicks of the mouse.
The analysis will be color coded to show exactly where the problem is with the bar code. Sections of the bar code can be analyzed to better determine how to solve the problem. High-resolution reading of the bar code is possible due to the 1280 x 1024 pixel resolution camera (1.3 mega-pixels). This allows reading (and analyzing) every twothousandth of an inch (.002") of the bar code height. This exceeds the ten-scan average required by ISO. Camera technology allows more detailed analysis of the bar code, and it makes reading of small and truncated codes possible, accurate, and very easy.
Supported Symbologies
Supported Standards

Code 39
ITF (I 2 of 5)
UCC/EAN-128
Code 128
Codabar
UPC-A
Code 93
UPC-E
EAN-8
EAN-13
GS1 DataBar Omnidirectional
GS1 DataBar Stacked Omnidirectional
GS1 DataBar Limited
GS1 DataBar Expanded
GS1 DataBar Truncated
GS1 DataBar Stacked
GS1 DataBar Expanded Stacked
PDF 417
MSI Plessey
MicroPDF 417
Laetus Pharmacode
Composite Code CC-A
Composite Code CC-B
Composite Code CC-C
DataMatrix (ECC-200)
QR Code
Micro QR Code

CONFORMANCE STANDARDS:
ISO/IEC 15415:2000(E)
ISO/IEC 15416:2000(E)
ISO/IEC 15426-1:2000(E)
ISO/IEC 15426-2:2004(E)

APPLICATION STANDARDS:
GS1 General Specifications
MIL-STD-130M
AS9132-A /AIM DPM Cat 0
Laetus Pharmacode
Laetus Standard
Laetus Minuature Pharmacode
ISO/IEC 15415/15416
DHL
ALDI
PZN (big, normal, small)
Multi-Rotation Data Matrix
Multi-Rotation QR Code
GS1 Report
Italian Pharmacode

GS1 US CERTIFICATION:
EAN/UPC
ITF-14
UCC/EAN-128
EAN/UPC & extended codes
UCC/EAN with Supplementals
GS1 DataBar Omnidirectional
Data Matrix for Healthcare
EAN/UPC with CC
UCC/EAN-128 with CC
RSS-14 with CC
DataMatrix (ECC 200)