Access Control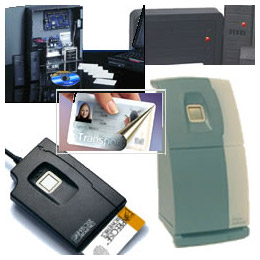 BaxTek Solutions provides a full line of access control products to help you create a winning security solution for either Physical or IT security. Products supported include component readers, stand alone readers, ID Badges & Badging systems, biometrics and complete multi-door systems.

Biometric security is simply using a person's unique physical traits for identification. An individual may be identified by analyzing unique personal traits such as fingerprints, hand geometry, voice, facial or iris features.
Using fingerprints is by far the most popular method of biometric authentication. The benefits of this technology are numerous: it's easy to use, the level of security increases, and password and PIN administration is drastically reduced.
BaxTek Solutions supplies both stand alone and integrated biometric readers, enrollment stations and scanners. The readers are very simple to integrate with existing systems for add-on or retrofit installations using industry standard Wiegand protocol. Readers are used to control and monitor access to a door, gate or workstation.
Options allow for both biometric only, card & biometric, or card only access. Smartcard applications store the digital biometric template. We introduced to the reader in a card and biometric mode the key stored in the smartcard may be matched to the biometric presented to the reader for authentication.
Contact us with your requirements for add-on or retrofit components and BaxTek Solutions will assist in building the right solution.