Manufacturers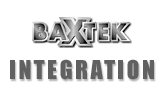 BaxTek has a broad selection of bar code scanners and the knowledge you need to help you select the correct type for your business. You can find the best bar code reader for your needs in our large inventory of barcode readers. Our scanners include the latest technology from vendors such as; Motorola/Symbol, Intermec, Unitech, LXE & HHP for your data collection needs. We have everything you need for your UPC bar code system and data collection purposes. When you need a new wireless bar code scanner or other inventory management system, BaxTek is just a phone call or email away.
Motorola / Symbol | Unitech | Honeywell
Honeywell [top]
3800i Handheld Industrial Image Reader
The 3800i handheld industrial image readers are the first industrial class readers to bring you Hand Held Products industry-leading image technology. This technology allows you to read bar codes at ranges up to 82 inches (208 cm). In real world applications, this extended read range means less climbing and reaching, and more operator productivity.
The HHP 4820i Industrial Cordless 2D Image Scanner
From the global leader in handheld imaging solutions, the 4820i Industrial Cordless 2D Imager is designed to provide unmatched data collection performance and versatility for applications that demand maximum reliability in the harshest working environments..
Copyright © 2020 BaxTek Solutions All Rights Reserved 1-866-722-9835 Made in Georgia, USA