The 4820i Industrial Cordless 2D Image Scanner.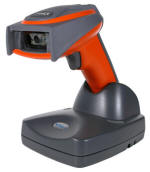 From the global leader in handheld imaging solutions, the 4820i Industrial Cordless 2D Imager is designed to provide unmatched data collection performance and versatility for applications that demand maximum reliability in the harshest working environments.
Powered by Adaptus™ Imaging Technology 5.0, the 4820i delivers high-performance, omni-directional linear and 2D bar code reading plus the versatility of digital image capture. With Adaptus 5.0, enterprises have the ability to capture and process more data than ever before with a single device.

Features & Benefits
Powered by Adaptus™ Imaging Technology 5.0 -
Reads linear and 2D bar codes, plus captures digital images

Tool-Free Battery Access -
Thumbwheel end-cap allows easy user access to the battery

Simple Device Configuration
Visual Xpress™ software provides an easy-to-use Windows-based GUI for programming and configuration

Bluetooth v1.2 Wireless Connectivity
Provides 33' (10m) working range

Long-Lasting Lithium-Ion Battery
Powers up to 50,000 scans per charge

Leading Combination of Ergonomics and Durability -
Rugged housing withstands 50 drops from 6.5 feet (2m) and certified to IP54 standards, while still being ergonomic and easy-to-use.