The Dolphin 7600.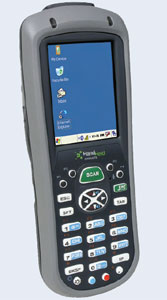 The most compact mobile computer in the series, the Dolphin 7600 offers a range of features and functionality superior to other devices in its class.
Ideal for use in retail, parcel delivery, postal route accounting, field services and warehousing, as well as for task management applications.
Features & Benefits

Small, Ergonomic Design:
Contoured, narrow body with an integrated finger saddle and angled image engine for comfortable one-handed use.
Engineered for Durability:
Constructed for reliable use in light industrial applications–in the field and on-site.
Full Shift Power Management:
Powers an entire work shift of use, delivering uninterrupted data processing for enhanced worker productivity and reduced battery replacement costs.
Versatile, High Performance Data Collection:
Adaptus™ Imaging Technology 5.0 reads linear and 2D bar codes and captures digital images, giving you the ability to process and manage more data with a single device than ever before.