The Dolphin 9500.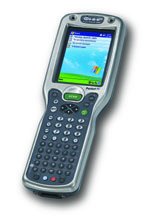 Packed with state-of-the-art communication and data collection functionality, the 9500 features a sleek, lightweight and rugged design, making it perfect for robust mobile applications in transportation, logistics and parcel delivery. Multiple full keypad options make the 9500 ideal for situations where alphanumeric data entry is required.

Features & Benefits

Designed for the Mobile User
Full keypad design and comfortable, intuitive ergonomics combine to make scanning, keyboard data input and voice communication easy.
Wireless Full Area Networking (WFAN™)
Integrated Wireless PAN, LAN and WAN communications provide real-time data exchange and multi-mode voice communication—anytime, anywhere.
Adaptus® Imaging Technology 5.0
Multifunctional data capture enables linear and 2D bar code reading, scanning of specialty and damaged codes, plus digital image capture.
Shift-PLUS™ Power Management
Powers bar code reading and RF-intensive applications beyond an entire work shift, allowing uninterrupted data processing and enhanced worker productivity— all while greatly reducing battery replacement costs.
Industrial-Grade Construction
Constructed to advanced specifications to withstand real-world use in harsh environments, indoors and out.