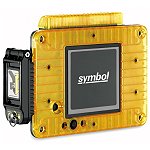 A new class of RFID reader — a new level of visibility
Motorola introduces the next phase in the evolution of RFID with the RD5000 Mobile RFID Reader. By adding mobility to Motorola's proven reader technology, companies can extend the reach of their RFID network throughout the enterprise environment. Designed for true mobility, the device is cable-free, provides real-time wireless LAN connectivity and has motion-smart features that work together to help conserve battery power. The completely self-contained device offers an integrated battery and antenna as well as a very small footprint for easy installation and deployment. From the warehouse and loading dock to the retail floor and more, the RD5000 increases the level of visibility of inventory and other assets — as well as increases the benefits gained from RFID-enabled real-time information management.
RFID anywhere
The RD5000 is a wireless, compact mobile RFID reader that can be installed anywhere — on material handling equipment like forklifts and clamp trucks, on mobile carts, portable skate wheel conveyors, or even in hard to reach locations where a cabled reader would not be practical. With the RD5000, assets are easily tracked as they move throughout the enterprise. The rugged design ensures continuous operation in the most demanding environments, both inside and outside your four walls. The result is a new level of granular real-time information — allowing you to realize a new level of productivity and efficiency throughout your operations.
Features and benefits of the RD5000:
100% free of network, power and antenna cables, enabling deployment of read points in new areas of the enterprise for expanded visibility of product movement
Integrated 802.11 a/b/g WLAN radios provide reliable connections with wireless LAN for real-time inventory visibility
Integrated Bluetooth enables wireless communication with an on-board vehicle computer, even in areas without WLAN connectivity
Flexible internal and optional external power sources to meet both mobile and stationary usage requirements
Interactive sensing technologies optimize battery power, enabling the activation of RFID operation based on motion and object proximity
Exceptionally rugged design delivers reliable operation in nearly any environment, from the warehouse to outside in the yard and more