The SkyeTek System
BaxTek deploys SkyeTek's RFID solutions in applications designed to track inventory / assets, authenticate products / disposables, and manage patrons. Within these three primary application categories, SkyeTek's reader products and technology offer an almost limitless potential for use cases, many of which were unimaginable only a few years ago.
RFID Basics
RFID's Three Components:
Mini-radio station, called an RFID reader, that receives and processes information.
Mini-broadcast station, called an RFID tag, which sends information
Mini-broadcast tower, called an antenna
There are two types of RFID tags
Passive tags require no internal power source, they are typically very small and low-cost, and have a shorter read range.
Active tags have their own internal power source and are used in environments that need longer and more reliable read ranges.
RFID Readers are integrated devices with an internal power supply, radio transceiver, radio antenna, and some level of network integration. Readers are used to locate, identify and track tags. With the information collected from the tags, the readers can write new/updated information to databases or network devices.
Product Authentication
Counterfeiting is one of the most critical sources of loss in a varying number of industries including pharmaceuticals, entertainment, consumer electronics, IT sectors and many others. SkyeTek's embedded RFID solutions for product authentication assist organizations in:
Protecting Brand Integrity - thwart counterfeiting to neutralize brand association and market degradation.
Improving Product Safety - Provide the right product at the right place at the right time.
Assuring Product Quality - Remove expired products from circulation.
Reclaiming Lost Revenue - Know the whereabouts of inventory and assets.
RFID Solution
SkyeTek's highly intelligent software provides an advanced level of security to ensure that only authenticated products are handed off from one authorized party to the next in the appropriate chain of custody, tracks and validates the product or consumable from manufacture to destination, and provides an audit trail of each step in the process. These complex solutions are used to verify a large number of items including:
Blood Units
Collectible Items
Consumer Packaged goods
Compact discs and DVDs
Industrial Filters
Intravenous Devices
Medical Device Disposables
Pharmaceuticals
Printer Ink and Toner
Featured Products
SkyeReader SR70 USB Reader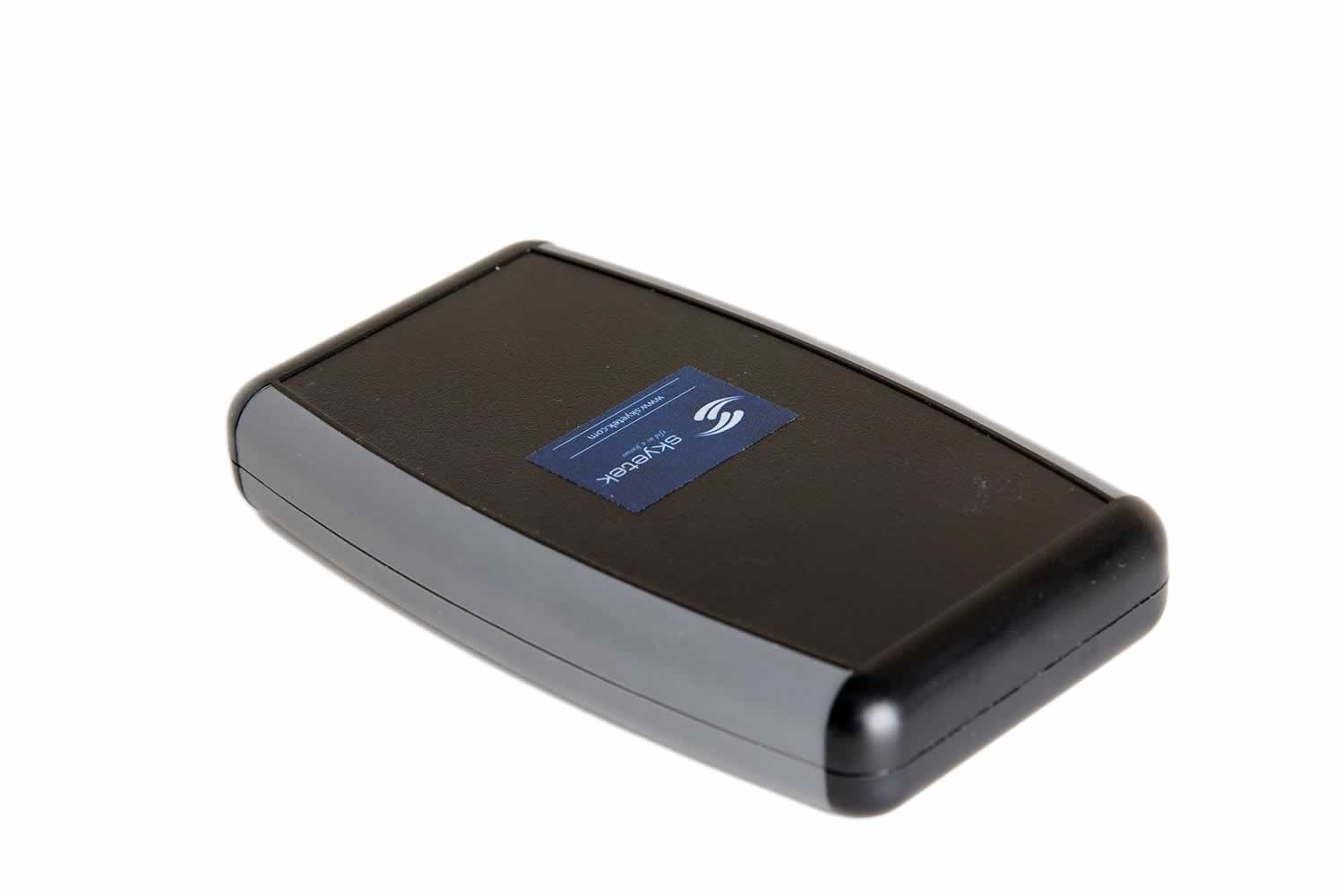 The SR70 is a superb match for reading and/or writing to tagged items or documents in desktop and counter-top domains. Cost, space, and power efficiency make it particularly applicable for large scale deployments across the enterprise. An intuitive installation process and uncomplicated software allows users to setup and operate the reader without support from IT or technical staff.
The combination of reliable performance, value pricing, and manageability, make the SkyeTek SR70 USB connected desktop UHF RFID reader/writer ideal for applications including:
Shipping/receiving inventory
Point-of-sale check-out
Inventory returns and exchanges
Check-in and check-out for assets and people
De-commissioning assets and continued use
Encoding tags
Key product features include:
USB 2.0 connectivity
Very small footprint 5.8 inches by 3.5 inches
EPC Class 1 Gen 2 tag support
FCC certified
SkyeReader SR100 Portal Reader
The SkyeReader SR100 is an ideal RFID reader/writer for portal and smart-cabinet applications. The combination of reliable performance, cost-effectiveness, and ease-of-use makes it the price-performance leader in the 1 Watt class of UHF readers/writers. RFID portal readers must provide high read reliability and performance for use cases involving high numbers of tagged items moving through an opening or stationary in a container. Moreover, these readers must be easy to deploy and remotely manageable/upgradeable, as businesses usually deploy tens or hundreds in their production environments.
The SR100 was specifically designed for the following applications:
Inventory management
Check-out/exit monitoring
Location/quantity tracking
Asset tracking
Service/maintenance
Patron/worker management
Service management
Tag commissioning/decommissioning

Important product features include:

EPC Class 1 Gen 2 support
FCC Certified
Full 1 Watt of RF power
6 dBi omnidirectional antenna
Up to 5m read range
Up to 50 tags per second
Ethernet and USB connectivity
Power-over-Ethernet option
Optional external MUX ports(1 RF, 1 control)

SkyeCabinet

SkyeTek's SkyeCabinet solution turns off-the-shelf cabinets, shelves, and totes into network-connected RFID reader systems that automate item-level tracking so that the inventory process can occur with much greater frequency, accuracy, and cost-efficiency than traditional barcode-based processes.

SkyeTek also incorporates technology from the following partners for use in developing SkyeCabinets:

Alien
Avery Dennison
Intermec
Motorola Symbol
Sirit
UPM

Lost equipment, empty shelves, and expire or missing inventory are great challenges facing organizations that directly influence their customers. The failure to track and manage individual items, regardless of it being inventory or assets, can mean lost sales and lower service levels.
Preserve Revenue - Replenish items quickly and be sure to keep shelves stocked.
Build Customer Loyalty - Provide the right product at the right place at the right time.
Assure Product Quality - Remove expired products from circulation.
Reduce Shrinkage/Loss - Know the whereabouts of inventory and assets.
Increase Service Levels - Ensure the required equipment is on hand to perform the necessary work.
Protect Brand Integrity - Provide quality products and services.
RFID Solution
SkyeTek's convenient, high performance RFID readers can be used with a broad range of products, including:
Bins
Carts
Containers
Desktops
Doorways
End caps
File cabinets
Forklifts
Handheld terminals
Pallets
Shelves
Manufacturing equipment

Recreation, hospitality and entertainment providers, as well as manufacturers of interactive consumer goods are constantly searching for ways to enhance the customer experience and increase loyalty, while concurrently managing costs and creating efficient revenue streams. SkyeTek's RFID solutions for patron management assist in:
Increasing Revenue - Offer a highly personalized experience.
Aligning Services with Customer Preferences - Provide the right product at the right place and time.
Building Customer Loyalty - Accrue loyalty points based on customer activities.
Reducing Customer Complaints - Automatically re-direct customers to shorter waiting periods.
Enhancing Brand Integrity - Maintain a consistent level of service.
Minimizing Customer Service Costs - Enable greater customer self-service.
RFID Solution
SkyeTek's advanced RFID software can be used with a broad range of products for enhancing maximum customization and customer experience. These include:
Automobiles and motorcycles
Computers
Exercise equipment
Gaming
Hotel and resort amenities
Kiosks
Theme park rides and amenities
provides the intelligence to offer personalized services based on customer buying preferences and detailed visibility into usage patterns.