Retail

Reduce Your Risks And Boosts Your Profits
TraceGains Offers Solutions Critical To The Financial Success Of Retailers
Retailers provide a tremendous consumer service by aggregating pre-packaged and perishable foods in one convenient location. The service is further expanded by the assurance that products are of a minimum high standard and safe for consumption. Should a product ever not meet consumer expectations for safety and quality, retailers are first in line to absorb the ill will of those affected, and the costs associated consumer action toward foods and brands no longer in favor.
Continuous Supplier-Compliance-Monitoring For Your Private-Label Brands
As your private-label brands continue to grow in importance and overall revenue, additional attention is required to make sure that your carefully executed brand differentiation strategy continues to pay its dividends. To maintain and be able to grow the profitability of your brands, TraceGains helps you to:
Continuously monitor critical risk points in your supply chain.
Receive exception-based alerts for non-compliance before goods reach your shelves.
Digitally receive your COA before the shipment arrives.
TempTrace™ Monitors Perishable-Viability Across All Logistics Events
75% of consumers choose which retail grocer they shop at based on the perception of the quality of fruits & vegetables. The TraceGains solution helps you identify supply chain events that directly contribute to the quality and salability of your perishable inventory.
Identify where, when, and how long your product is out of temperature-spec.
Accurately forecast remaining shelf-life for distinct perishable products at the time of receipt.
Reject non-compliant shipments at the receiving dock.
Reprioritize perishable inventory with "First Expiry, First Out" (FEFO) instead of FIF
CPG/Manufacturer

Avoiding Recalls & Boosting Profits Is The Best Brand Protection

Regain Control Of Your Supply Chain and Value Chain
As a food manufacturer you sit in the middle of the food supply chain, turning raw materials into finished goods. Because of the many transformations that raw materials undergo during manufacturing such as mixing, blending, commingling, batching, and re-work, today's enterprise technology loses track of raw material and ingredient identity.
Raw material and ingredient attributes and identity are also often lost in your supply chain, where you rely on affidavits and infrequent audits for proof that your incoming shipments are compliant with critical business rules.
The TraceGains solution puts you back in control.
With TraceGains ability to continuously monitor internal and external processes for compliance with your business rules, blind spots and brand identity loss are eliminated. You can catch problems before they arrive or are passed to your customers in a finished good.
Continuously monitor critical risk-points.
Reject sub-standard materials/ingredients before they arrive at your plant.
Proactively avoid the need for recalls.
Minimize the cost and brand damage from recalls.
Knowing at the ingredient-level where what came from, what was done to, and where it went, and maintaining full identity across transformations lets you minimize cost and brand damage associated with recalls.
Trace back to the person, process, equipment or attribute.
Track forward to other affected products.
Find the contaminant and test various scenarios for recall breadth and write-off costs.
Grow your profits.
By building a coherent string of supply chain and production events, and product attributes, you can leverage powerful analytics to learn which events and product attributes affect profitability.
Leverage Profit Optimization from TraceGains to see where value is added or removed.
Provide conclusive proof to support your brand claims.
Leveraging event and attribute tracking, TraceGains will build you a pedigree data mart that lets you prove your brand and marketing claims.Brand Authenticate your selling claims to create premium products.
Reassure customers and consumers of their purchase choices.
Grower / Packer / Shipper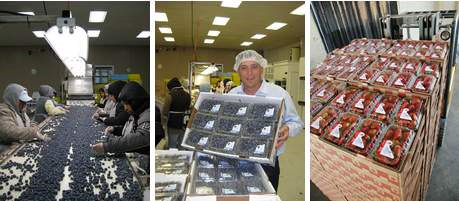 Turn Retail Labeling Compliance Into Your New Profit Center
Whatever the Produce Traceability Initiative... TraceGains Can Help
Standards.Standards.Standards. The problem is, they're not standard. One guy wants this, the other guy that, the third something completely different again. In the end you carry the cost and burden.

With TraceGains you can begin to label in the field or the shed, and print out the correct label on a per-case/carton basis. We have customers doing it right now, and they're grabbing market share.

In addition, TraceGains is a fully certified GS1 traceability-standard service provider, helping you to easily and cost-effectively implement and comply with the PMA, CPMA, and United Fresh Produce Traceability Initiative. By going beyond a basic GS1-128 implementation, our hosted service ties in upstream suppliers to provide you with continuous compliance monitoring for GAP and other stringent business requirements identified by you.
Many Other Benefits
TraceGains lets you conclusively prove when your product is not part of a category recall. If or when necessary, the system lets you issue recall alerts within minutes based on any attribute (e.g., fertilizer, pesticide, harvest patch, etc.) or event (e.g. dates, shipments, etc.) that is part of the agricultural process.
Being able to identify the root cause or contaminant lets you quickly issue an alert for only the affected goods, minimizing your costs, write-off, and long-term brand damage.
Additionally, you can boost your profits by tracking all the way back to seeds, planting, fertilizer, etc. and can then compare all the inputs to the quality, yield, etc. This provides rich new opportunities to mine for profits with our Profit Detective.
Protect against food safety claims — get peace of mind.
Add continuous supply chain visibility and compliance monitoring.
Respond rapidly and confidently to recalls when the worst occurs.
Pinpoint root causes.
Trace back to the person, process, equipment, or attribute.
Track forward to other affected products.
Boost your revenue — why settle for average pricing?
Increase revenues through brand authentication of desired traits.
Grow your profits.
Use Profit Optimization from TraceGains to see where value is added or removed.
Distribution / Logistics

Turn Traceability Into A Profit Center
Minimize The Cost And Brand Damage From A Recall
As a third-party logistics (3PL) service provider, you play a critical role in the food supply chain. With the many types of "transformation" that you perform on foods, on behalf of your customers, it is very easy to lose identity and case-level traceability.

The TraceGains Product Suite can help reestablish case-, carton-, and pallet-level traceability, as well as keep you fully compliant with the record-keeping requirements of the Food Bioterrorism Act of 2002 (Section 306), as well as Country of Origin Labeling (COOL).
In the process, you maintain case- and carton-traceability when you rework/sort product, re-palletize, or re-package/re-lid.
The result is full case-level traceability to retail, the ability to recall only truly tainted goods, and the ability to issue a minimum necessary recall notification that does not jeopardize consumer safety, but also minimizes your costs.
Foodservice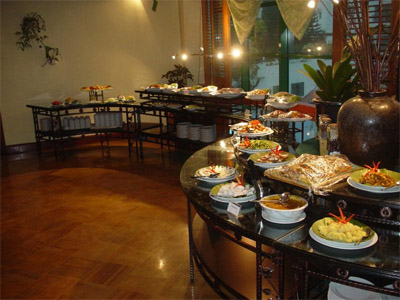 Advanced Traceability And Brand Protection
Continuously Monitor Your Supply Chain For Compliance With Critical Business Rules
On a typical day, 133 million people in the U.S. will be foodservice patrons; the typical adult averages 5.8 restaurant occasions per week; and 53% of adults say that restaurants are an essential part of their lifestyle.Food poisoning affects 76 million people in the U.S. annually. The risk-correlation is too large to ignore for brand owners.
Catch Problems Before Your Serve Them
With TraceGains Advanced Brand Protection and Promotion service, and the TraceGains Product Suite, you can continuously monitor critical risk points in your supply chain and internal operations for compliance with key business rules.
Exception-based alerting lets you know of adverse events so that you can take the necessary corrective or preventative action, and catch non-compliant raw or finished materials before they negatively affect your business.
Minimize Brand Damage
Should there ever be a need for a recall, TraceGains helps you identify the source of the contamination, so that you can rapidly initiate the correct recall minimize your capital write off. By acting swiftly you limit negative news to one news-cycle, and maintain consumer trust.
Maximize Your Profitability
The TraceGains Profit Optimization module identifies which supply chain events and production processes affect product profitability. By counseling or eliminating events and suppliers that detract from profitability, foodservice corporations can optimize their supplier relationships to achieve maximum profitability.
Prove Your Brand Claims
With TraceGains patented pedigree data mart, you can conclusively prove your brand and marketing claims to your customers. You can reassure your customers of the origin of your foods, measure your carbon footprint and support your social responsibility claims, or simply prove that you are serving what you claim to be serving.
Protect Your Brand
Catching problems before they reach others, maximizing your profitability, and authenticating your brand claims is the best brand protection and longevity strategy possible today.